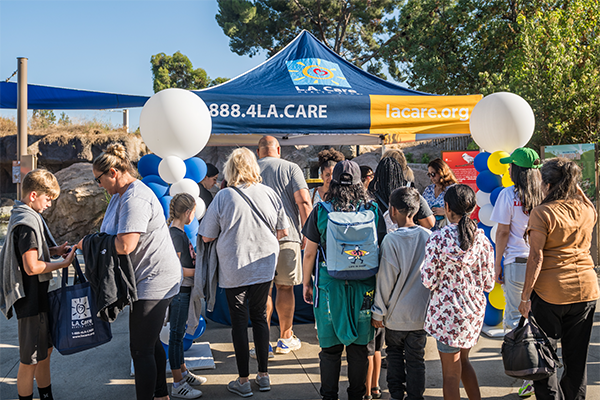 What do sports, bicycle riding and animals have in common? According to L.A. Care, it's the roots of health and well-being – so much so, that the organization is sponsoring efforts in these areas to reach and educate residents of Los Angeles County about healthy lifestyles, health care and health coverage.
L.A. Care is sponsoring events run by the Los Angeles Rams, CicLAvia and the Los Angeles Zoo. These may seem like nontraditional types of health care sponsorships for L.A. Care, but activities are reaching residents with messages about the importance of physical and mental wellness, with opportunities to address social determinants of health and provide important educational materials on Medi-Cal redetermination.
Social determinants of health are social, economic and environmental factors that have an impact on our health. They include food security, transportation, housing, early childhood education and access to quality health care. It's a challenge to be healthy in the face of factors like poverty, and L.A. Care has been investing in solutions to these issues.
Transportation is one such huge problem for many Angelenos, whether it relates to cost, access or time. CicLAvia is tackling this by promoting "active" transportation through bicycle riding and car-free events. Their goal is to catalyze vibrant public spaces and good health, engaging with people to transform relationships with communities and with each other by re-thinking the use of cars as our prime mode of transportation – one that we often take for granted.
"CicLAvia is incredibly grateful to L.A. Care for their partnership!" says Meisha Rainman, Chief Impact Officer at CicLavia. "With L.A. Care as a sponsor, CicLAvia is better able to deliver on our mission to use open street events to improve the health and well-being of ALL Angelenos, regardless of zip code. Together, we are connecting people where they live, play, and work to the tools they need to build healthy communities."
L.A. Care's sponsorships are also educating event guests about our L.A. Care and Blue Shield Promise Community Resource Centers. The Centers are a partnership between the two health plans, and are currently located in 11 communities across Los Angeles County. The Centers provide free fitness and health education classes, social services, and host community events such as back-to-school giveaways and vaccine clinics. 
Some Rams activities will be in collaboration with LAUSD and will incorporate a local L.A. Care Community Center. The Rams will also host a food pantry with the Long Beach Community Resource Center, addressing the social determinant of food security. According to the Los Angeles Food Bank, we are home to one of the largest footprints of hunger, with one in five of our neighbors in Los Angeles County facing food insecurity. 
Lastly, L.A. Care is sponsoring Zoo Friday Nights to reach families and residents with health care information, including educational materials on Medi-Cal redetermination, in a setting that promotes childhood education and empathy for animals, and a sense of connectedness to the world in which we live. It also provides residents the opportunity to get outside and enjoy family time – exercising together as they walk through the park while bonding over the experience.
"The Greater Los Angeles Zoo Association is very appreciative of L.A. Care's sponsorship support of Zoo Friday Nights at the Los Angeles Zoo," says Kevin O'Brien, Director of Corporate Partnerships at the Greater Los Angeles Zoo Association. "Our respective organizations play a very important role in the L.A. community, especially in the areas of education, health and well-being."
 
"Zoo Friday Nights presented by L.A. Care is a unique opportunity for the public to see what the animals are up to during the L.A. Zoo's twilight hours. In this unique fun setting, L.A. Care will have the opportunity to directly connect with the Zoo's diversified demographic audience and educate them on the choice of health care services, ways to promote healthy living and prevention." 
In order to elevate the health of Los Angeles County residents, L.A. Care believes we need to reach them in a variety of ways, including through innovative sponsorships and community partnerships.