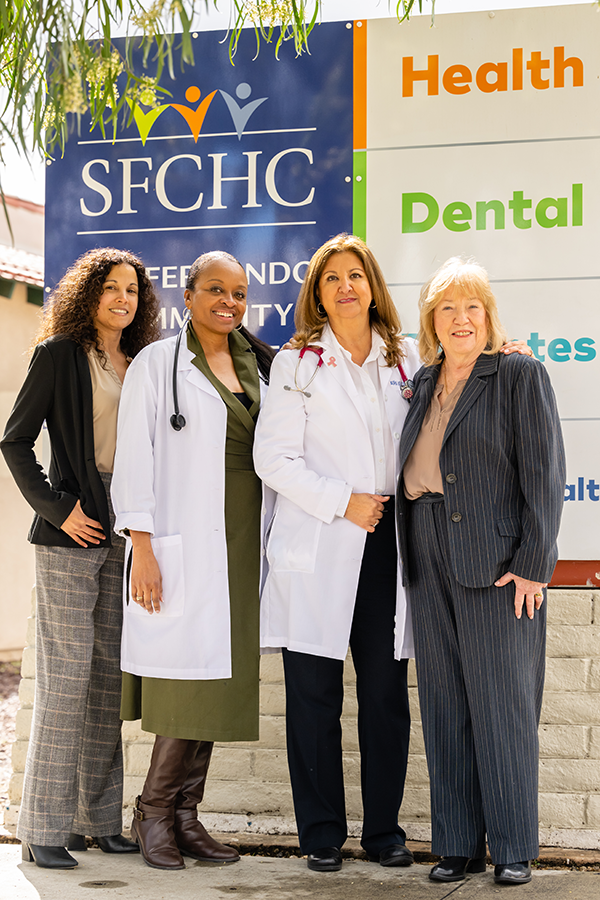 San Fernando Community Health Center (SFCHC) serves a little over 7,000 unique patients annually at two locations in San Fernando and Mission Hills, with about 100 staff. SFCHC is dedicated to providing quality, compassionate care to every person, with an emphasis on communities that are underserved, to ensure access to health care, education and the resources necessary for a good quality of life. 
The center considers itself small, but its services and impact are mighty. So much so, that L.A. Care recognized SFCHC as a Top Performing Clinic for women's care and pediatric care for its Fifth Annual Provider Recognition Awards.
Patrice Little came to health care serendipitously upon relocating from the Central Valley to Los Angeles in 2009, and worked in HIV global clinical research until joining SFCHC in 2018. Learning about health care from the ground up combined well with Little's passion to help others. It has resulted in a career that she loves for 14 years, and a recent 2022 appointment as Chief Operating Officer for SFCHC. Little has a BA in psychology and MBA in healthcare management.
"It's been amazing to see our women's health services progress so much," said Little. "We're very proud to have low birth weight rates of 0 to 1% — that's huge. We've also been getting women into care early to address things like cervical cancer and breast cancer, especially their disproportionate impact on communities of color."
As part of the health care safety net, SFCHC believes that everyone deserves access to quality and patient-focused health care, regardless of income, insurance status or ability to pay. 
While the community may not specifically know what a "safety net" is, they know SFCHC is a medical home they trust and provides compassionate care. SFCHC began operations as the San Fernando Community Hospital in 1924. Some of SFCHC's current patients were born at the hospital, and have been enjoying its services since it was incorporated as the San Fernando Community Health Center in 1974. It was designated as a federally qualified health center in 2017.
Little, who loves metrics and data analysis, cites a favorite measure being the number of referrals they receive from patient friends and families. "We know our neighbors, we know the community, and our patients refer their friends and family after receiving care from us. At the clinic, it's so great to see everyone at all levels smiling, knowing they are cared about, knowing that their voices are heard," said Little. "Patient engagement is so important, and we are meeting them where they are at."
75% of the patients are on Medicaid, while the remaining are mostly uninsured. "We have a high immigrant population who are afraid sometimes of seeking services, especially when they have low literacy or are monolingual," said Little. 
Customizing care to fit their patient needs, combatting disparities, and addressing social determinants of health are important to SFCHC.
"I love that we have such amazing services. Our nutrition program does hands-on cooking demos with patients making culturally appropriate, healthy food fun and delicious," she said. "We offer full dental services, a cardiovascular program, case management, and behavioral health. We're also really proud to offer retinal exams in-house, where access is really an issue. In addition, we are trying to expand pediatric developmental screenings and linkage to resources and ensure that families can get the help they need."
Little says, "It's a collaborative effort between everyone. Without the buy-in, without the passion from all our providers, leadership, and staff, we couldn't do it. We really make an effort to work together across departments and across staff."
These efforts are certainly paying off. Congratulations to SFCHC for being an L.A. Care Top Performing Clinic!