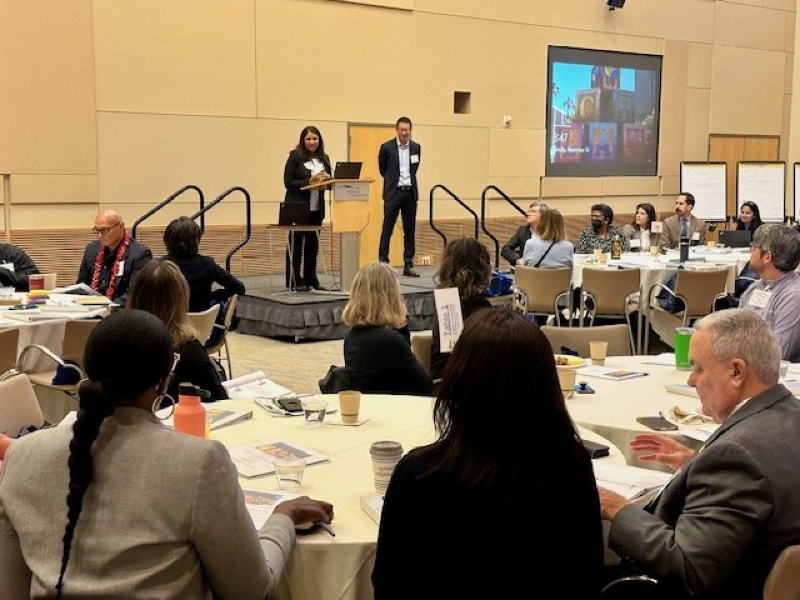 The COVID-19 pandemic helped to put a spotlight on health disparities that have long existed within poor communities of color. Researchers have found that during that time, the disparities widened for school-aged children and adolescents in these communities. Today, L.A. Care Health Plan and Children's Hospital Los Angeles (CHLA) hosted a Children's Health Disparities Roundtable, which brought together experts from various disciplines, to find actionable solutions to address the wide-ranging issues that lead to health disparities for children in Los Angeles County.
    
"Without taking action now that involves local stakeholders from schools, social service agencies, health care, and community organizations working together, we will see further deepening of health and educational disparities among children, especially those in already marginalized communities," said Alex Li, MD, L.A. Care Chief Health Equity Officer. "This can have a devastating influence on the long-term development of these children." 
L.A. Care and CHLA organized this roundtable because children have had a lot to deal with over the past few years – coping and building resilience to many pressures related to the pandemic, continued gun violence, and social isolation due to school closures and virtual instruction. 
 
"In order to improve health outcomes for vulnerable children in Los Angeles County, it's important that we work in a collaborative, cross sector environment to think critically about how we can decrease child health disparities in our most vulnerable populations," said Mona Patel, MD, FAAP, Chief Integrated Delivery Systems Officer at Children's Hospital Los Angeles. "The goal is to develop seamless models of care for patients with health complexities and ultimately improve health outcomes for our children and their families."

The Roundtable focused on four areas:
•    Building Resilience in Schools – Address safety concerns related to firearms; Address anxiety created by gun violence and the pandemic
•    Child Welfare Gaps – Explore greater clinical coordination between primary care physicians, behavioral health specialists and the Department of Children and Family Services; Optimize CalAim youth and foster care resources
•    Post-Pandemic Vaccine Catch Up – Target those children who are behind on vaccines; Address myths and misinformation
•    Rethinking the Pediatric Medical Home – Discuss how to transition medically complex children from pediatric medical homes into adult medical homes

The Roundtable participants will develop a child health disparity framework to inform policy and create actionable next steps. Ultimately, L.A. Care and CHLA want to help lead change that can garner meaningful results and help close the disparities gap for children in vulnerable communities within the next three years in Los Angeles County. 

About Children's Hospital Los Angeles
Founded in 1901, Children's Hospital Los Angeles is at the forefront of pediatric medicine and is the largest provider of hospital care for children in California. Children's Hospital is home to renowned experts who work together across disciplines to deliver inclusive and compassionate care, and drive advances that set pediatric standards across the nation and around the globe. Children's Hospital Los Angeles delivers a level of care that is among the best in the world for a truly diverse population of children. The Hospital is consistently ranked in the top 10 in the nation on U.S. News & World Report's Honor Roll of Best Children's Hospitals, including No. 1 in California and No. 1 in the Pacific U.S. region. Children's Hospital Los Angeles embraces the hospital's mission to create hope and build healthier futures. Children's Hospital Los Angeles is among the top 10 children's hospitals for National Institutes of Health funding. The Saban Research Institute of Children's Hospital Los Angeles supports the full continuum of research, allowing physicians and scientists to translate discoveries into treatments and bring answers to families faster. The pediatric academic medical center also is home to one of the largest training programs for pediatricians in the United States. And the hospital's commitment to building strong communities is evident in CHLA's efforts to fight food insecurity, enhance health education and literacy, and introduce more people to careers in health care. To learn more, follow CHLA on Facebook, Instagram, LinkedIn, YouTube and X, formerly known as Twitter, and visit CHLA.org/blog.