Looking Ahead - L.A. Care is Transforming Health Care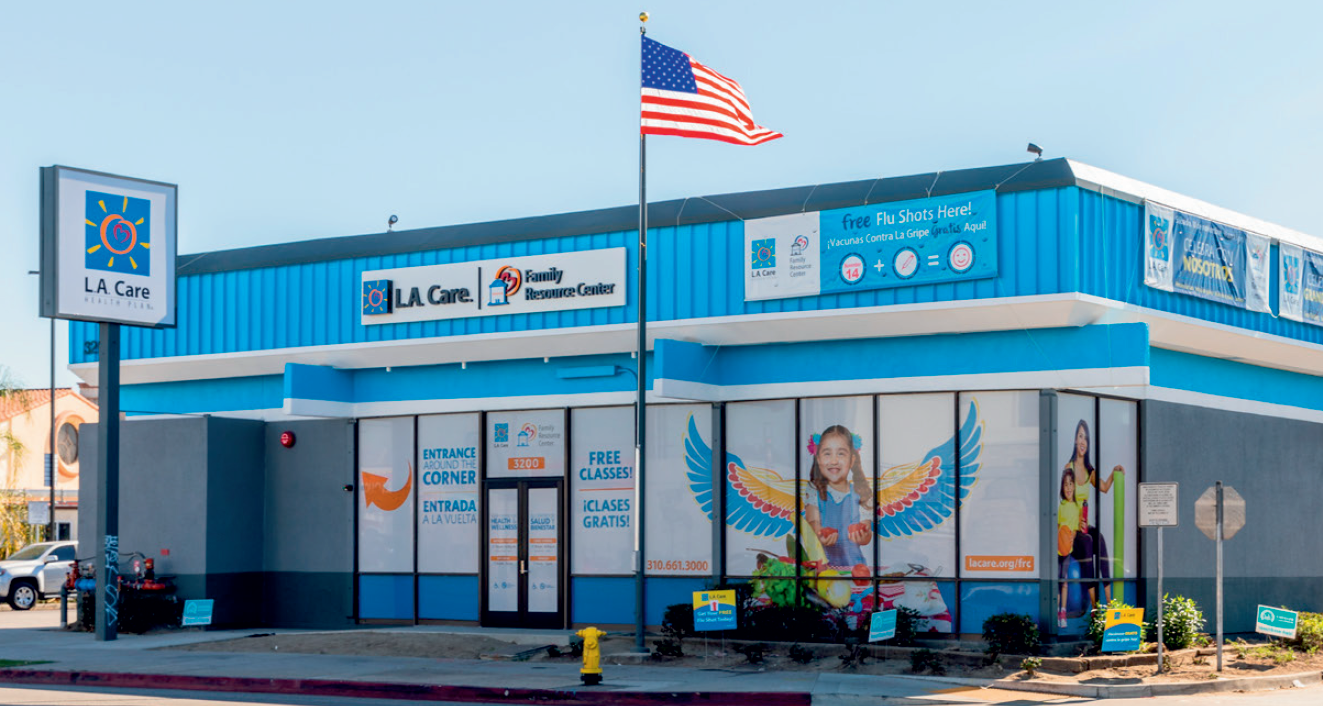 At L.A. Care, doing what is right for our members means we are always working to improve the member experience.
This includes seeking innovative ways to deliver the highest quality care, and implementing transformational initiatives that support L.A. Care members and health care providers.
Member Connections
One of the most tangible examples of our commitment to L.A. Care members is the expansion of our Family Resource Centers (FRCs).
We currently have six FRCs throughout Los Angeles County, and we are looking ahead to build-out seven more centers for a total of 13 by the end of 2020.
We are excited to bring much-needed health services and programs to communities where they are needed most. From yoga to healthy cooking, and from stress management to health screenings, the resources we offer are having a real impact.
Through the years, we have seen how the FRCs invigorate a community and become part of the local fabric. And the best part, of course, is they are free and open to everyone, not just L.A. Care members.
In the coming year, the FRCs will become hubs for our field-based Care Management Program. Care managers, social workers and community health workers will help members understand their current health status, treatment plan and health care needs. Care management team members may even visit members at home in order to get a more complete picture of their needs.
As they develop individualized care plans for members, it makes sense for this team to be in the community, closer to the members to help connect them to needed services and better monitor progress. We are also planning to launch next generation programs including telehealth and other personalized services for our members in the near future.
A newer area of focus at L.A. Care is social determinants of health (SDOH). SDOH are factors not directly related to health, but they significantly impact health outcomes. Health care services contribute only 20 percent to ultimate health outcomes, while health behavior accounts for 30 percent. Fifty percent of health outcomes are based on social determinants of health.
L.A. Care has identified five priority areas to focus on now and moving forward – housing, food security, income security, transportation and early childhood education. We will identify gaps that exist and determine how we can leverage government resources and partnerships with community organizations to connect members with the programs and services they need to reach total wellness.
Adding Value for Our Providers
L.A. Care's Elevating the Safety Net initiative, a long-term effort to address the physician shortage in L.A. County, is off to an amazing start. Our Provider Recruitment Program has awarded 48 grants to date to help clinics and practices bring new physicians into the L.A. County health care safety net. Fourteen physicians have received grants through the Provider Loan Repayment Program, and our L.A. Care Scholars are wrapping up their first year of medical school. The next group of eight scholars will soon be announced.
L.A. Care plans to expand the initiative in the coming years. We are researching the possibility of adding a residency program, a community health workers program, and a Science, Technology, Engineering, and Math (STEM) Program for high school students, among other innovative ideas.
We will continue to expand our direct network of providers in our effort to offer more provider choices and improve access to care, especially in areas where there is already a physician shortage.
We are developing the infrastructure that will create a seamless provider and member experience by ensuring providers contracting directly with L.A. Care have access to the appropriate tools and functionality to provide a high level of coordinated care to L.A. Care members. By increasing the number of directly contracted local physicians and specialists in places like the Antelope Valley and elsewhere, the member experience and health outcomes will improve.
Beyond L.A. Care
As we prepare for the future in health care, L.A. Care will also fight to maintain what we have now. After a Texas court ruled the Affordable Care Act (ACA) is unconstitutional, we supported the California state attorney general's decision to file an appeal. L.A. Care will be one of the organizations seeking to improve the ACA, rather than destroy it.
We will advocate for an embrace of a public option – plans like L.A. Care competing with commercial plans to keep ACA premiums low. We will continue to send our members to the State Capitol to have their voices heard. We simply cannot return to the pre-ACA health care days when too many of our current members, who were uninsured, had few options beyond crisis care in the emergency room.
We will continue to build on our achievements, with a commitment to being a health leader that delivers high-quality care and services tailored to the needs of our members. We are elevating health care for all of L.A.