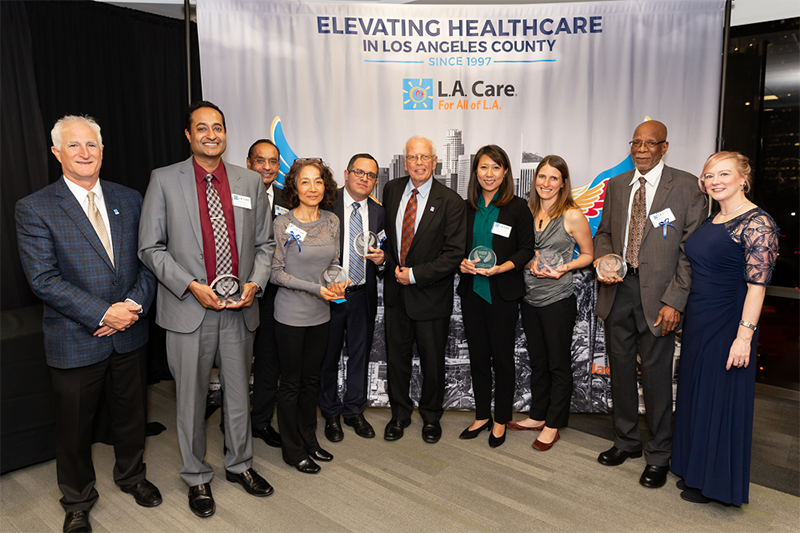 Top Practitioners, Clinics and Provider Groups Recognized for Excellent Care
On January 31, 2019, L.A. Care hosted its first Provider Recognition Awards. The dedicated commitment by the honorees has helped to strengthen the provider safety net in Los Angeles County, which has benefited L.A. Care members.
"In the face of multiple complex patients, these providers have made excellent patient care and management a high priority," said John Baackes, CEO of L.A. Care. "We want to highlight the work these providers are doing across L.A. County, and let them know we are a team working together to provide quality care to the most vulnerable in L.A. County."
The awardees were:
Top Practitioner – Noel Torres, M.D.
Top Clinic – Asian Pacific Health Care Venture
Top Provider Group – Axminster Medical Group
Most Improved Practitioner – Oluyemisi Afuape, M.D.
Most Improved Clinic – The Achievable Foundation
Most Improved Provider Group – Citrus Valley Physicians Group
Dr. Noel Torres, a pediatrician in Cudahy, was pleasantly surprised to get the call about the Top Practitioner award.
"My team is happy to be making a difference in Cudahy," said Torres. "I wanted to be a doctor since I was a child growing up in Pico Rivera, so I could give back to the community. I'm proud to say my patients tell me we are doing well."
Asian Pacific Health Care Venture, the Top Clinic, is a nonprofit community health center providing personalized, quality health care services in a culturally accessible manner. It began operating in 1986, and now has five locations stretching from Hollywood to El Monte.
Axminster Medical Group, the Top Provider Group, has been in business for more than 50 years. It is a multi-specialty group of dedicated physicians, nurses and support staff.
The awardees were chosen based on an internal performance rating system used by L.A. Care to determine quality of care being provided.