Help Get Ready for Medi-Cal Renewals
Encourage patients to update their contact info with the County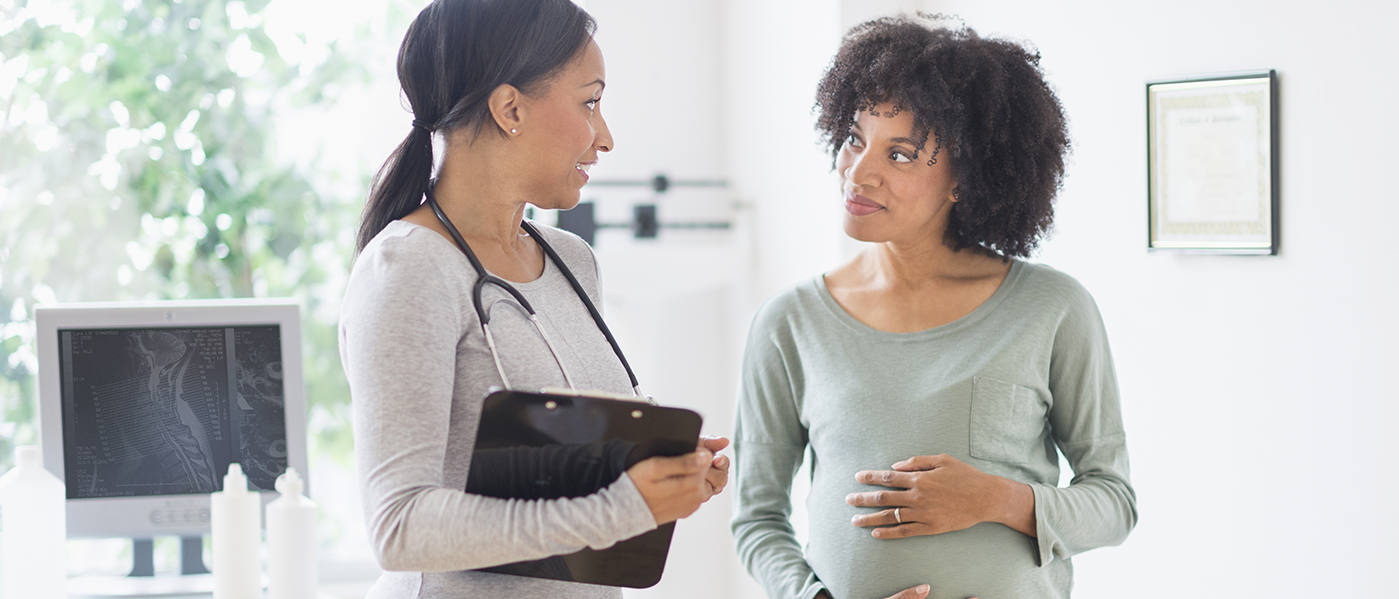 Helpful Information for Medi-Cal Renewals
L.A. Care provides information and addresses many questions about the Medi-Cal renewal process. The Los Angeles County Department of Public Social Services (DPSS) can also be contacted at 1-866-613-3777 (TTY) 1-800-660-4026 for additional information.
Due to the continuous coverage requirement that was enacted during the public health emergency (PHE), Medi-Cal members have been able to keep their coverage regardless of any changes in circumstances. Once the continuous coverage requirement ends on March 30, 2023, the Los Angeles County Department of Public Social Services (DPSS) will resume Medi-Cal annual renewal redetermination operations on April 1, 2023.
L.A. Care's call to action for our providers, as trusted partners to their patients, is to conduct outreach and bring awareness to resumption of Medi-Cal renewals through utilizing the following key messages recommended by DHCS:
UPDATE YOUR CONTACT INFORMATION
Make sure the county has your current name, mailing address, phone number, email address, or other contact information if it has changed. If your information has changed, you can update it online at benefitscal.com, or by calling 1-866-613-3777 (TTY) 1-800-660-4026. This way, the county can contact you about your Medi-Cal.

CHECK YOUR MAIL
The county will mail you a letter about your Medi-Cal eligibility. You may need to complete a renewal form. If you're sent a renewal form, submit your information by mail, phone, in person, or online, so you don't lose your coverage.

CREATE OR CHECK YOUR ONLINE ACCOUNT
Create or check your BenefitsCal account to sign up to get text or email alerts about your case.

COMPLETE YOUR RENEWAL FORM (if you get one)
If you received a renewal form in the mail, you may submit your information by mail, phone, in person, or online to help avoid a gap in your Medi-Cal coverage.
Resources
L.A. Care hosted a Medi-Cal Redeterminations Webinar on May 10, 2023. View the presentation deck or watch the recording of the webinar.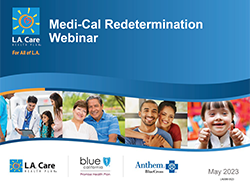 Medi-Cal Redeterminations Webinar Presentation
We've developed Medi-Cal Renewal Toolkits for providers. The provider toolkits list resources that providers can utilize to educate and inform members during point of contact visits on the renewal resumption process, to ensure continuity of coverage and avoid gaps in coverage.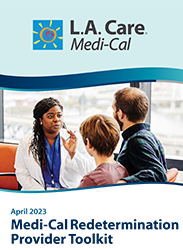 L.A. Care Toolkit for Providers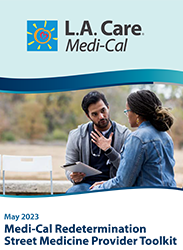 Street Medicine Toolkit for Providers
Also, the following resources can be used for display in offices and to educate and inform members on the Medi-Cal renewal process. All of the PDF files offer information in all threshold languages.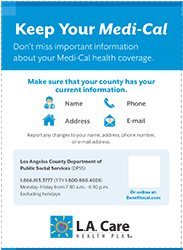 L.A. Care flyers for patients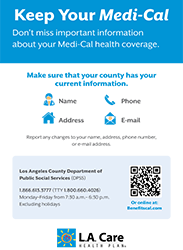 L.A. Care posters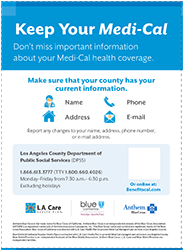 Plan Partners flyers for patients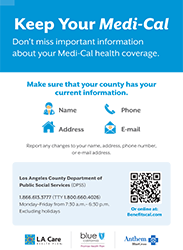 Plan Partners poster
The Los Angeles County Department of Public Social Services also has a BenefitsCal guide, which has written instructions on the Medi-Cal renewal process. Frequently asked questions and answers are below, along with the following videos about important steps to take.

Additional Member Support
Members who need help with accessing their Medi-Cal coverage, who received notice their Medi-Cal was discontinued, or have any additional coverage questions, should contact the Los Angeles County Department of Public Social Services at 1-866-613-3777 (TTY) 1-800-660-4026, go to benefitscal.com or visit KeepMediCalCoverage.org for more information and to sign up for text or email updates on Medi-Cal renewals.
Every 12 months, DPSS will conduct a review of a Medi-Cal beneficiary's information to determine if they are still eligible to continue receiving Medi-Cal benefits.
Yes. It is important that beneficiaries respond to county requests for updated information, including renewal packets. The beneficiary does not need to return the paper annual renewal form but they must provide the necessary information requested in the form and sign the form through any of the available means indicated.
Yes. If a beneficiary needs assistance completing their renewal packet, there are agencies across Los Angeles County with bilingual staff who are able to provide Medi-Cal enrollment assistance. View a list of available agencies.
The annual renewal month is the month in which the beneficiary's annual renewal is due. Typically, the annual renewal due month is the 11th month after their application month.
DPSS will attempt to verify the beneficiary's information through multiple sources available to the county. If DPSS locates the information needed to redetermine eligibility through the ex parte process, DPSS will complete the annual renewal and send the approval Notice of Action letter.
An annual renewal form will be sent to the beneficiary if DPSS is unable to redetermine continued Medi-Cal eligibility through the ex parte process. Beneficiaries who do not have a valid social security number will not be able to successfully complete the ex parte process and a packet will be sent to have the beneficiary complete their annual Medi-Cal renewal.
Yes. The packet from DPSS will arrive in a yellow envelope.
The beneficiary is provided 60 days to provide the requested information to DPSS. If the requested information is not received by the 60-day due date, Medi-Cal benefits will discontinue at the end of the renewal due month.
The Los Angeles Department of Public Social Services (DPSS) will send the beneficiary a letter to let them know if they still qualify for Medi-Cal coverage. If additional information is needed to renew their coverage, DPSS will send the beneficiary a letter requesting any missing information.
Beneficiaries have up to 90 days from the discontinuation date to provide the information needed to re-establish coverage. After 90 days, beneficiaries will have to submit a new Medi-Cal application.
Requested information can be submitted by mail, in person, online, or phone. Beneficiaries can submit information online by logging in or creating an online account at benefitscal.com. To submit information by phone, beneficiaries can call DPSS at 1-866-613-3777 Monday – Friday from 7:30 a.m. – 6:30 p.m. (excluding holidays).
Medi-Cal beneficiaries can receive alerts on their case by creating an online account at benefitscal.com.
Yes. DPSS has released a video tutorial and written instructions on the Medi-Cal renewal process. These tools can be accessed on the L.A. Care website.
Yes. DPSS will accept other forms of identification if a California ID is not available. Accepted documents include passports, bus passes or any other form of identification. As a last resort, DPSS will also accept an affidavit.
Individuals experiencing homelessness who are in need of a mailing address to receive/send communication to/from the county may utilize a county district office address closest to them. Please reference the office locations listed on the county website: https://dpss.lacounty.gov/en/resources/offices.html.
No, to maintain continuity of coverage for these individuals who would have aged out until the new law takes affect, counties have been instructed to deprioritize these renewals towards the end of the unwinding period.
Individuals who have Supplemental Security Income (SSI) get Medi-Cal through the Social Security Administration. If a member has questions, please advise them to call 1(800) 772-1213, Monday – Friday, 8:00 a.m. – 7:00 p.m. or they can visit their local Social Security Office.
If a member no longer qualifies for Medi-Cal, they may be able to get health coverage through a Covered California plan.
For assistance with L.A. Care Covered, individuals can contact L.A. Care directly at 1(800) 222-4239
There is never a fee for beneficiaries to renew their Medi-Cal benefits. Beneficiaries are encouraged to not fall for scammers who threaten to discontinue their Medi-Cal coverage unless they pay a fee.