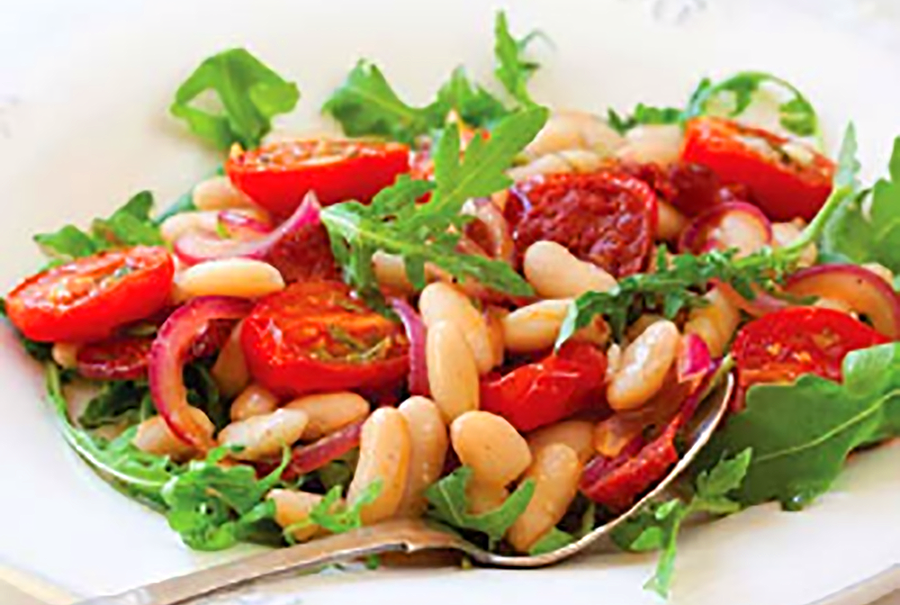 INGREDIENTS:
1 (15 oz.) can low-sodium cannellini beans, drained and rinsed

1 tablespoon olive oil

1/2 large onion, diced

2 carrots, diced

2 celery stalks, diced

1 small zucchini, diced

1 clove garlic, minced

1 tablespoon fresh thyme, chopped

1/2 teaspoon salt

1/4 teaspoon ground black pepper

32 oz. low-sodium chicken broth

1 (4.5 oz) can no-salt diced tomatoes

2 cups spinach leaves, chopped

1/3 cup freshly grated parmesan cheese
INSTRUCTIONS:
Mash half of the beans and set aside.
Heat oil in a large pot over medium-high heat.
Add the onions, carrots, celery, zucchini, garlic, thyme, salt and pepper.
Stir until the vegetables are tender, about 5 minutes.
Add broth and tomatoes with the canned juice and bring to a boil.
Add mashed and whole beans.
Add spinach leaves and cook until the spinach wilts, about 3 minutes.
Serve topped with Parmesan cheese.
*Makes 7 servings. Nutritional information suggested per serving.
Calories: 140 | Total Fat: 4 g | Sodium: 310 mg | Cholesterol: 8 mg | Dietary Fiber: 4 g | Protein: 8 g | Carbohydrates: 20 g