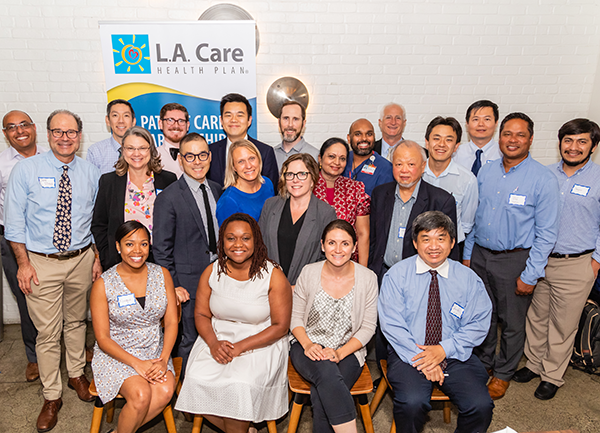 L.A. Care Health Plan is pleased to offer physicians from community clinics an opportunity to participate in the 2019 Physician Leadership Program. This is a six-month program designed to equip physicians with tangible leadership and management skills necessary to effect transformational change within their health centers, and ultimately improve patient care and health outcomes.
Program Overview
Participants will attend leadership seminars with expert faculty, receive personalized individual leadership coaching at throughout the program, and support in the implementation of an organization based leadership project to integrate newly acquired skills. Topics will include leading effective teams, improving clinic functioning, managing health care finances, and developing a personal approach to leadership.
Space is Limited
Program is available for up to 20 physicians. Multiple providers from one organization may apply, but admission for all is not guaranteed.
Eligibility
Physician (MD/DO) must be practicing in a community clinic (FQHC or look-alike) in L.A. County. Physician must also have experience managing others or managing complex projects and initiatives.
How to Apply
The application and full program details are available at L.A. Care's Physician Leadership Program page.

Application Deadline
The application deadline is Monday, December 3, 2018.

For More Information
Email Brooke Ehrenpreis, Senior Consultant or call 1-213-314-9092.
In the 2018 Physician Leadership Program photo: first row (left to right): Monique Gittens, Karen Boston, Marla Potter, C. Charles Lin; second row (left to right): Jeffrey Ring, Kimberly Grueneisen, Theodore Shu, Christina Hillson, Louise McCarthy, Arsenio Jimenez; third row (left to right): Joseph Zaky, Edward Liao, Eric Schluederberg, Jonathan Liu, Ward Carpenter, Geetha Ramaswamy, Jerry Abraham, Richard Seidman, Jack Tsai, Moe Aung, David Noya, and Sergio Figueroa Aragon.