---
Temporary Safer at Home Order - Effective November 30 to December 20, 2020
The Los Angeles County Department of Public Health (LAC DPH) has issued a temporary safer at home order in response to the recent rise in COVID-19 cases, hospitalizations and deaths.
The order's main point is limit your contact with others outside your household as much as possible. In addition, a curfew requires that all gatherings with members of other households and all activities conducted outside the residence with members of other households cease between 10:00 p.m. and 5:00 a.m. except for essential activities and those activities required by law.
---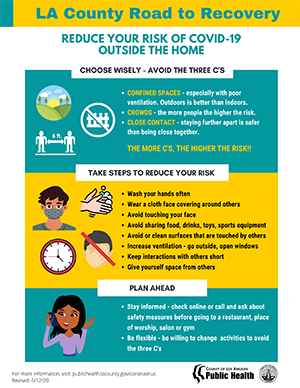 Public health experts all over the world are working hard to manage COVID-19, the disease caused by the new coronavirus. While they work to find a successful treatment, we can all continue to do our part to slow the spread of infection.
Please continue to practice social or physical distancing and wear a cloth face covering or mask whenever you are around others, and to wash your hands frequently.
Below are links to additional information offered by LAC DPH.
Please continue to take steps to protect yourself and your loved ones. Our video featuring L.A. Care Chief Medical Officer Dr. Richard Seidman shows you how.
Prevent Infection
The best way to prevent infection is to avoid being exposed to the coronavirus. Practice social distancing, wear a cloth mask in public settings, and follow the Safer at Work and in the Community order.
Also take these daily preventive actions:
Wash your hands often with soap and water for at least 20 seconds. It's best to wash your hands after using the bathroom, before eating, and after blowing your nose, coughing or sneezing.
Use hand sanitizer that has at least a 60% alcohol base if soap and water aren't available.
Avoid close contact with people who are sick.
Avoid touching your eyes, nose and mouth.
Stay home when you are sick.
Cover your cough or sneeze with a tissue, then throw the tissue in the trash.
Avoid handshakes.
Interested in getting tested for COVID-19? Go to our COVID-19 Testing web page for more information.