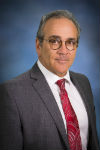 Dino Kasdagly, Chief Operations Officer
Dino Kasdagly is Chief Operations Officer at L.A. Care Health Plan. He is responsible for the overall operational and administrative performance of enterprise functions, ensuring the effective execution of key systems and processes necessary for the organization's operating efficiency. He brings more than 35 years of experience in global operations, information management, general management and product development in health care and technology.
Before joining L.A. Care, Mr. Kasdagly served as Senior Vice President of Performance Management at AmeriHealth Caritas, where he led the transformation of the organization's informatics, operational planning, cross-functional execution and process improvement while focusing on optimizing the performance of health services delivery, health services payment, customer service and compliance.
Prior to that, Mr. Kasdagly held executive positions at OptumInsight (part of UnitedHealth Group), Cleveland Clinic, Mayo Clinic and a 17-year career at IBM.
Mr. Kasdagly earned his Bachelor's and Master's of Science degrees in Mechanical Engineering from the University of Louisville and a Master's of Business Administration from the University of Minnesota.