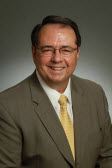 Michael Rembis is the Corporate CEO for Avanti Hospitals, and CEO for Paladin Healthcare Management.
Michael brings to Avanti and Paladin over 25 years of executive level hospital leadership in the Southern California region, including holding top administrative positions at Providence Saint Joseph Medical Center, Hollywood Presbyterian Medical Center, Riverside Community Hospital, Centinela Freeman Health System and JFK Medical Center. He also held administrative posts at Tenet Healthcare System hospitals in San Diego.
Rembis began his career in 1978 at the Eisenhower Medical Center in Rancho Mirage. A native of Southern California, he attended UCLA and earned a Master's degree in Health Services Administration at the University of Southern California.
Rembis is the immediate past chairman of Private Essential Access Community Hospitals (PEACH), and is currently a residing board member for L.A. Care, PEACH, California Hospital Association, and McCallum Theatre in Palm Desert.
In addition, Michael has served as a Board member of HASC, CAHHS, and served on Regional Policy Board 9 for AHA.
Michael and his wife Kris live in Tarzana and are in the process of relocating to Maui. They have two daughters and a son.