Kimberly Uyeda, M.D., MPH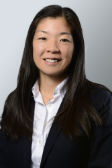 Kimberly Uyeda, M.D., MPH, Director of Student Medical Services & Community Partnerships/Medi-Cal Programs at L.A. Unified School District
Dr. Kimberly Uyeda is the former Director of Student Medical Services & Community Partnerships/Medi-Cal Programs at L.A. Unified School District (LAUSD), where she directed service delivery to underserved populations through innovative school-community partnerships.
Dr. Uyeda oversees health providers who render direct medical services, such as school entry exams, immunizations, assessments for special education, and other types of specialty care. Under her leadership, 14 new school-based Wellness Centers have launched in LAUSD over the last three years. She previously served as a principal investigator of the Merck Childhood Asthma Network-sponsored asthma program at LAUSD, and is currently co-investigator on the UCLA/RAND Healthy Adolescent Living Study, which focuses on obesity prevention in middle school youth.
Dr. Uyeda earned a Doctor of Medicine degree from UC San Diego and completed her internship and residency at Cedars-Sinai Medical Center in Pediatrics. She also holds Master's degree in Community Health Sciences from the UCLA Fielding School of Public Health.