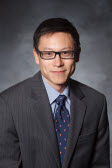 Alexander (Alex) Li, M.D. joined Los Angeles County Department of Health Services (DHS) in 2011. He is a practicing physician who is double boarded in internal medicine and pediatrics. He is currently the Deputy Director of Care Transitions and Systems Integration. The main goal is to improve care coordination and transitions between clinical venues for patients to ensure that care is patient-centered and focus on delivering care at the right place for their needs. He is also coordinating the efforts around executing the strategic priorities of the newly established LA County Health Agency that involves the integration of the Departments of Health Services, Mental Health and Public Health. Prior to his current role, he was DHS Ambulatory Care Network's first Chief Executive Officer where he led efforts to implement the patient centered medical home model, improve the primary and specialty care interface and transformed DHS' ambulatory care services to be more patient-centered and accessible.
In the past, he served as the Medical Director of Medical Management at L.A. Care Health Plan where he oversaw the medical utilization operations. During this time, he lead efforts to improve specialty access for the Medi-Cal and underserved population with the eConsult program and lead the efforts to help L.A Care be the federally designated Regional Extension Center (HITEC-LA), a program to help L.A. County providers adopt electronic health records, for L.A. County.
In addition, Alex is active with immigrant health issues and sits on L.A. Care's Board of Governors and is a board member of Good Hope Medical Foundation.